You are viewing solutions for region:
Turkey
Geri
Benefits of Vesuvius BOF maintenance solutions
Optimised campaign life
Optimised furnace performance and reduced vessel repair cost
Increase furnace availability and productivity
Engineered materials
High MgO and High Purity MgO materials
Dolo/MgO materials
Specialty materials including spinel forming and Mag-chrome
Basigun* gunning products are suited to all the main repair areas of a furnace. They are applied by conventional gun/ shooter or by fixed installed high speed Robotic.
Basiram* premium grade dry ramming masses for first installation and repair. The chemistry is designed so that the dry powder will form a strong sinter layer on the surface on first heating.
Installation equipment and monitoring
Lining Design and Analysis : Vesuvius has the capability to do advanced 3D modelling to help understand the main wear areas in a vessel working lining, to allow the accurate positioning of higher quality materials in the lining configuration.
Vesuvius can also supply fixed position or mobile high speed laser scanners for precise lining analysis and measurement to deliver optimised campaign life.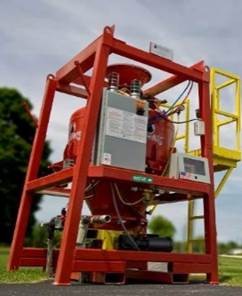 Installation expertise
Regularly scheduled Project Management by a trained field service technician
Local service technicians on call 24/7 for emergency service
Fully automatic PLC operation on a robust, field-proven platform
Guns customized to meet every customers' needs
Vendor Managed Inventory (VMI) : Vesuvius sales and service personnel manage product shipments and on-site inventory, as well as spare parts for Vesuvius equipment
Performance reviews to monitor/determine program effectiveness and identify areas of improvement
Vesuvius Marketing &Technology team involvement providing performance analysis, on-site gunning training, and technical assistance
Training at Vesuvius sites for customers
Laser Contouring System (LCS) for High Temperature Laser Refractory Thickness Measurement
The LCS uses a suite of sensors capable of measuring the remaining lining thickness in vessels used to produce and refine molten metal. Whether you are making steel, copper or aluminum, we have a mobile or fixed position system that can provide the critical lining thickness information you need to maximize vessel up-time and minimize operational cost.
All systems provide the following measurement information in simple, easy to read formats:
Refractory thickness in 2-D or 3-D format
Tabular output with auto-transfer to plant Level II system
Refractory wear rate and lifetime prediction capability
Optional surface temperature measurement using integrated two-color pyrometer
Small (3.6mm) beam diameter
High accuracy (±1.8mm 1σ) scanning
Fast – 120,000 Hz scan rate
New crack detection algorithm measures width and depth of refractory cracks.
Bath Level measurement