Back
Laser scanning in ladles improves safety and extends product life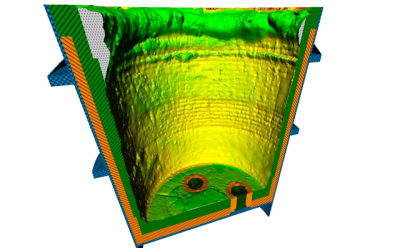 The Process Metrix Anteris* 360 Insertable Laser Contouring System offers customers safety improvements and cost savings, as well as reducing their environmental footprint.
The refractory lining of a ladle wears away progressively, as it is used repeatedly to carry molten steel from the melting furnace to the caster. Steelmakers need to extend the number of times a ladle is used – called a 'heat' - to optimise their refractory material cost. However, if pushed too far, steel can penetrate through the refractory lining and ladle shell, leading to a leakage through the ladle bottom or sidewall, thereby creating an extremely dangerous situation. Without a way to quantify the remaining refractory thickness after a heat, a significant safety margin of refractory thickness is required.
The Process Metrix Anteris 360 Insertable Laser Contouring System measures the remaining thickness of a ladle's working refractory lining. It is the only scanner on the market that has been purpose built for molten metal applications. Its use improves the steelmaker's ability to reduce their safety margins by identifying abnormal wear, extending the ladle's life, and drastically improving containment safety.
Capturing reliable, comprehensive data on a ladle's refractory lining thickness using the Anteris 360 Laser, enables more accurate predictions of usable life, that can brings a 5-15% improvement in average ladle lining utilisation. This reduces ladle lining costs per tonne of steel cast by the same amount, leading to large potential savings in refractory use and energy conservation.
* Trademark of the Vesuvius Group of companies, unregistered or registered in certain countries, used under license.