Our webinars
Wherever you are in the world, expert advice is always just a click away. In our webinars, our technical specialists will provide application advice and inform you about innovations and new technologies. Our webinars last around 30 minutes and are designed to maximise the benefits of our solutions. At the end of each live webinar, we offer a question and answer session to answer any question you may have. Reserve your seat now for the webinar of your interest.
We are looking forward to seeing you there!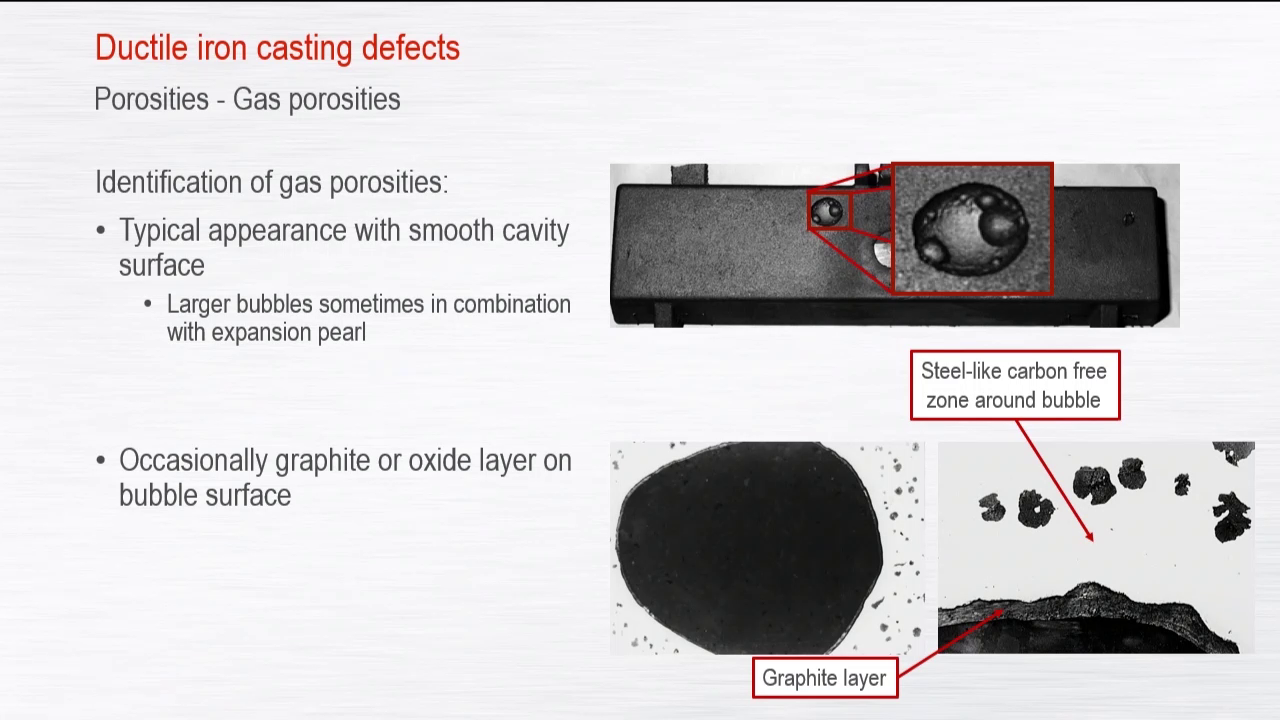 Challenges and Solutions for Casting Defects in Ductile Iron
With this webinar we invite you to get an overview about the most common casting defects the foundry industry faces with ductile iron alloys.
For each of the described defects counter measurements and possible solutions will be shown.
The trend to net shape designed castings, tighter quality demands and higher physical property requirements do not allow for the smallest defect areas within the cast part.
This led in the past to an increased attention and lower tolerance for casting defects.
During the presentation we will describe the root causes and mechanisms which can lead to scrap such as casting surface and graphite structure defects.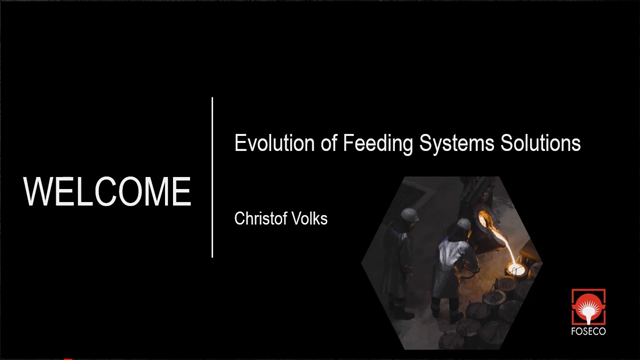 Evolution of Feeding Systems Solutions
The product development of suppliers to the foundry industry is strongly oriented to meeting customers' demands. Changes in processes, stricter environmental requirements, evolution of casting design and alloys and a continuously increasing cost pressure are driving the development of foundry consumables.
Despite the maturity of the feeding systems product line, ongoing product development ensures a continuing dynamism in the evolution of feeder technology. Many of the products in the market today could not have been conceived of a few years ago. The process of product development is a result of how we understand our role in the foundry industry which is serving and partnering our customers to achieve higher quality, improved productivity and lower costs.
During this webinar you will get insights into a selected range of the latest developments in feeding systems technology which have proved to be an asset to today's foundry industry. We invite you to look behind the scenes and follows us on a journey from foundry application problem to its eventual solution.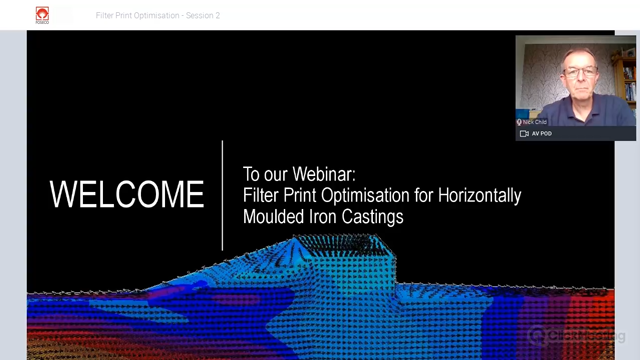 Filter print optimisation for horizontally moulded iron castings
To ensure the delivery of the cleanest, and least turbulent metal to the mould cavity, a correctly designed filter print and gating system must be used. Qualitative and quantitative analyses using sophisticated casting process simulation software programs are important tools to enable detailed understanding of the performance of filters in various filter print designs. This webinar will outline the results of recent studies undertaken and how these are used in the design of optimised filter prints.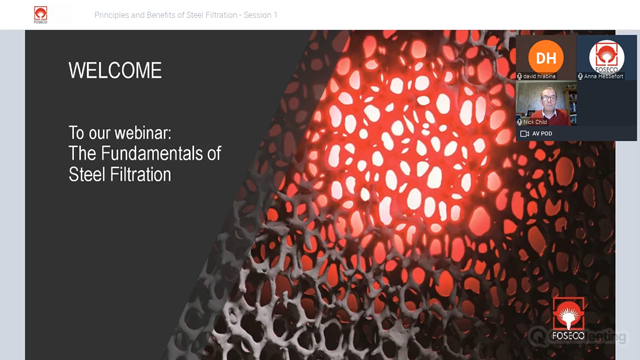 The fundamentals of steel deoxidation and its impact on filter performance
Many steel casting alloys require deoxidation prior to casting. This webinar will discuss the principles of deoxidation, why and where it is required, and how it is undertaken.
The impacts of deoxidation processes on filter performance (including filter capacity) will be considered and recommendations provided.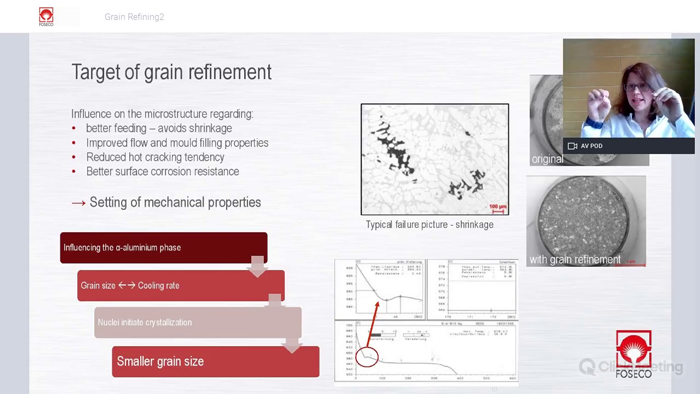 Chemical grain refinement vs. master alloys
Grain refinement is an essential part of the aluminium casting process with the aim of reducing the size of the primary aluminium grains during the solidification phase. This process has many advantages for most under- and eutectic aluminium alloys as it improves feeding, extension and mechanical properties, increases corrosion resistance to fatigue, improves machinability of the casting and reduces hot cracking. For many years grain refinement has been carried out with master alloys. In this webinar you will learn more about the use of chemical grain refiners and the technical differences between the two processes.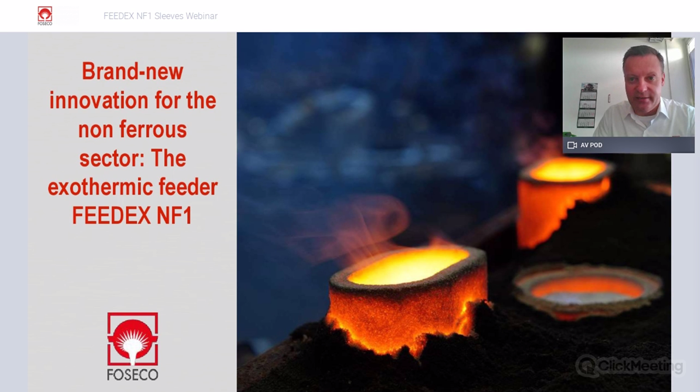 FEEDEX NF1 Sleeves
In aluminium foundries, the use of insulating sleeves in a wide variety of materials has been common practice for many years. Foseco is now launching an exothermic sleeve material for aluminium casting applications for the first time. The new recipe FEEDEX NF1 was specially developed for the aluminium sector and adapted to the existing requirements there. It ignites quickly, the exothermic reaction takes place slowly and steadily and ensures a considerable improvement in the feeding effect. This results in only low emissions. FEEDEX NF1 feeders are available in numerous different versions and eliminate the need for manual addition of exothermic powders.
Efficient hydrogen removal with pumping rotor designs
Molten aluminium is highly reactive and easily reduces water vapour to form aluminium oxide and hydrogen. The hydrogen then dissociates into its atomic form and then diffuses into the melt. This atomic hydrogen is readily taken into solution in the molten aluminium, however during solidification this results in a drastic reduction in solubility. The consequence of the hydrogen content in the melt being high is that the hydrogen becomes liberated during solidification to form very fine porosity throughout the casting. This porosity is not interconnected but will form points of weakness in the casting as well as becoming unsightly on machined surfaces. In this webinar we will show you how to reduce hydrogen efficiently with pumping rotors.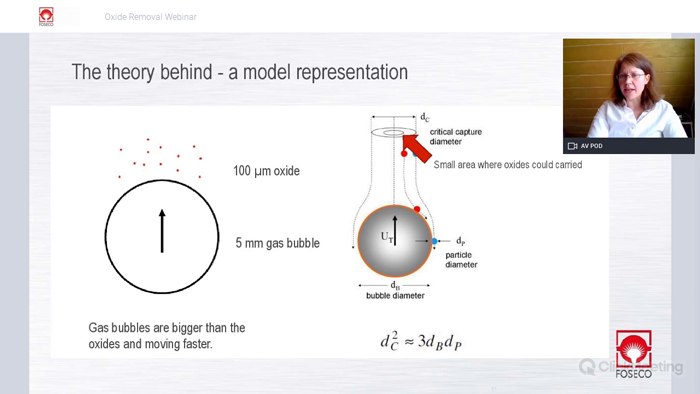 Efficient oxide removal with user friendly fluxes
The types of casting being made today in aluminium foundries are very varied. Thinner and lighter castings are being expected to perform in more arduous conditions than ever before and sophisticated Aluminium alloys are being developed to raise their potential properties to new heights. With ever increasing demands being placed on the foundry, there is an increasing need to control the individual processes that are involved in making the casting. In this webinar we will show you how to reduce the oxide content in the melt with our user-friendly fluxes and how to stabilize your process sustainably.