You are viewing solutions for region:
Turkey
Geri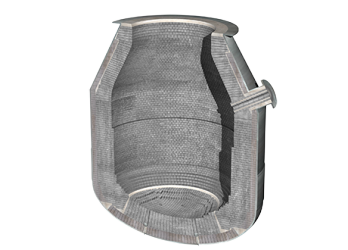 Vesuvius manufacture and supply a range of sleeves and seating blocks as well as straight, stepped or fully conical taphole bores. Pre-assembled or individual piece repair tapholes can be supplied at lengths to suit the age of the BOF.
Taphole systems can also be supplied as one-piece high pressure, isostatically pressed up to 1.8m in length.
Benefits of Vesuvius solutions
Optimised campaign life
Optimised vessel performance and reduced vessel repair cost
Increase vessel availability and productivity
Engineered materials
High quality Fused Magnesia materials enriched with up to 15% Carbon
Pressed into individual pieces for either pre-assembly on assembly on site
Isostatically pressed into a single piece for enhanced performance

Pressed Multi-Piece Assembly

Isostaically Pressed Single-Piece