You are viewing solutions for region:
France
Retour
Tundish Impact Pads
Benefits of Vesuvius TURBOSTOP* solutions
Optimizes:
Yield by maximizing prime steel available
Safety
Reduces:
Steel re-oxidation by minimizing turbulence
Tundish cover powder consumption
Minimizes:
Splash at start up
Tundish slag emulsification
Skull weight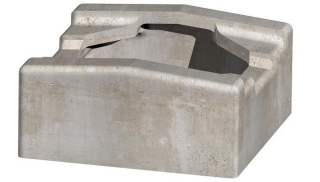 Maximizes:
Inclusion floatation during casting
Inclusion floatation after ladle change
Steel yield and cost savings
Increases:
Sequence length by reducing clogging
Working lining durability
Engineered materials
Turbostop is a Patented Tundish Flow Control System used in the Impact Area of a Continuous Casting Tundish Custom Designed and Engineered for Each Caster by Water Modelling Turbostop is installed in the impact area of the Tundish, directly beneath the Ladle Shroud pouring stream.
It works by dampening the energy of the incoming stream, thus suppressing turbulence in the pour area.
The resultant upward flow eliminates short-circuiting of the steel through the Tundish, giving a more controlled steel flow.
Expertise
Computational Fluid Dynamic (CFD) engineered impact pad designed for specific tundish objectives.
Engineered Tundish Cavity Shaping
Benefits of Vesuvius engineered tundish cavity shaping
Yield Enhancement System improves Tundish flow pattern:
Optimized tundish residence time – Cleaner Steel
Reduced splash at start up – Safety
Better quality – Less downgrades
Reduced transition zone – Increased yield
Reduced skull size – Increased yield
Improved Tundish turnaround time

Fully Engineered precast tundish furniture system with optimized tundish backup lining construction, utilizing computational fluid dynamic (CFD) design to custom design the application to suit specific steelmaking needs.
Materials used are designed to have high density and strength to give excellent corrosion resistance, coupled with low thermal expansion for stability in use.
Precast Complementary Tundish Shapes
Maximized yield & quality
Vesuvius tundish flow-modifier offerings provide long-life refractoriness combined with an engineered system approach to deliver real value. These advanced solutions are uniquely designed to homogenize temperatures, eliminate re-oxidation particles and float inclusions.
Precast complementary tundish related shapes: dams, weirs, baffles, anti-vortex plates, work in concert with the customized design.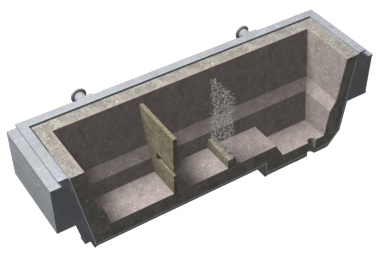 Installation expertise
Flow modelling:
Both Computational Fluid Dynamics and water modeling provide the optimum design for any individual tundish. These specialized precast shapes are designed to optimize yield and product quality.