You are viewing solutions for region:
India
Back
Foseco offers a package of consumables and equipment for the production of clean, reproducible metal quality and uniform microstructure. The range of products we supply offer advantages in safety, health and environmental issues, automation and process control and productivity.
INITEK Initialisation Process
INODEX and the FOSECO CONVERTER, lined with KALTEK ISO, have been developed to reduce Mg consumption, to reduce and stabilise the requirement for inoculation, to improve the consistency of properties, to improve environmental conditions, and to reduce liquid metal cost.
It is particularly suitable for foundries who are using FeSiMg for nodularising in a tundish cover ladle or open sandwich ladle. The system achieves high Mg recoveries compared to the normal range of 40-60%.
INODEX is a ferroalloy based on 48% silicon specially designed for the Foseco INITIALISING process for the production of ductile iron. It is used as an INITIALISING alloy to control the sulphur/oxygen activity of the melt. Sometimes a light late stream inoculation practice is required in conjunction with the INODEX treatment to fine-tune the nucleation of the castings.
The unique triangular prism shape of the FOSECO CONVERTER reduces heat loss from the exposed surface of metal by radiation into the lining. It also gives a higher ferrostatic pressure above the treatment alloy in the pocket, further improving the recovery of Mg.
KALTEK ISO is an alumino-silicate based highly insulating ladle lining system offering a clean, simple and fast application.
Inoculants for All Types of Iron
INOCULIN inoculants are a range of granular products for the inoculation of all cast irons and may be mixtures of inoculating materials or single ferrosilicon alloys containing one or more alloying elements. They are available in a variety of grain sizes for metal stream, ladle, in mould and ductile iron spun pipe applications.
INOCULIN Inoculants for Grey Iron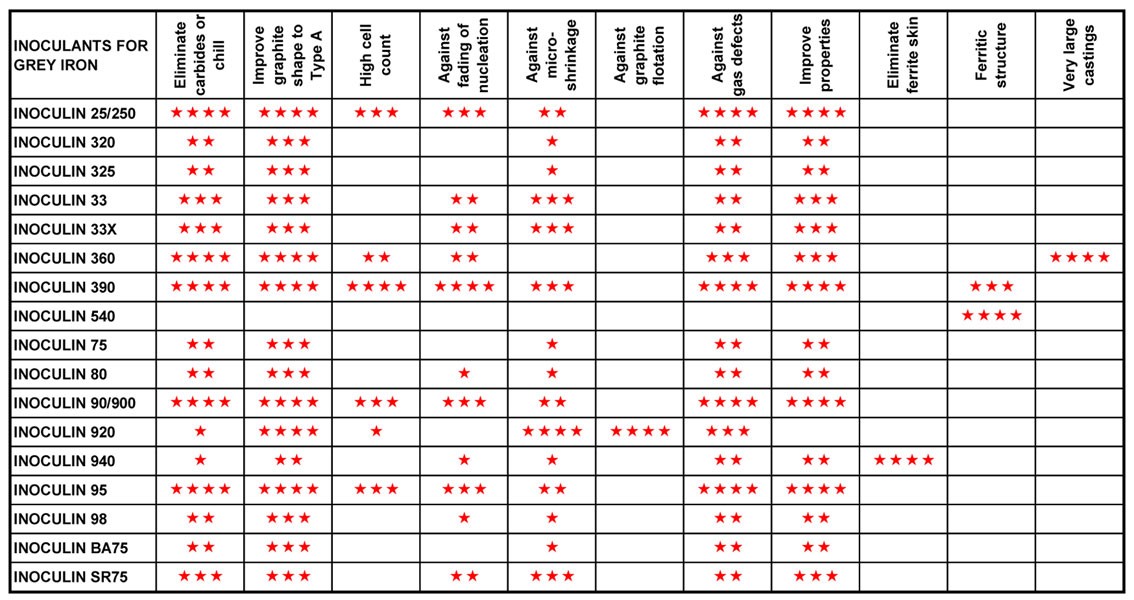 INOCULIN Inoculants for Spheroidal Graphite Iron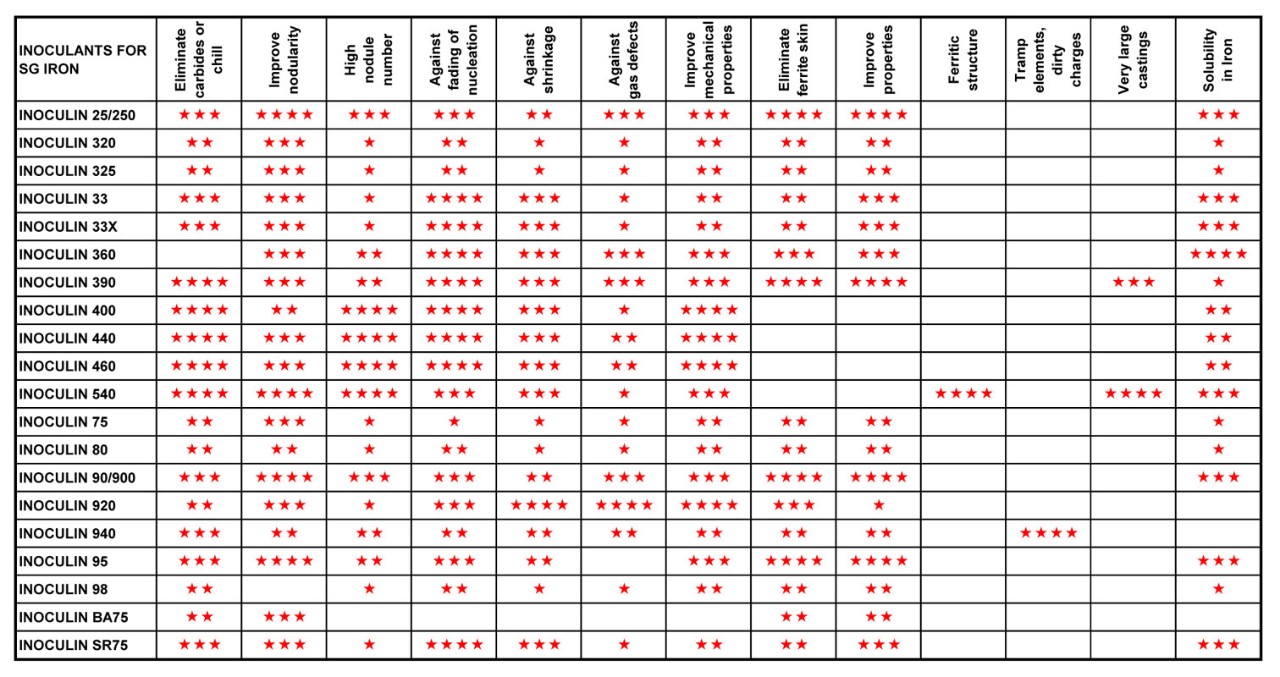 MSI (metal stream inoculation technology)

Foseco's MSI SYSTEM is an automatic metal stream inoculation system for use with mechanised and automatic pouring systems. When used in conjunction with INOCULIN in-stream grades highly reproducible results are achievable. The system has an in-built computer and an RS232 interface and remote maintenance and control software is supplied as standard.
The MSI metal stream inoculation system monitors the inoculant level, discharge pipe, inoculant flow, sliding gate, compressed air and equipment temperature in real-time. When MSI system is used in conjunction with INOCULIN in-stream grades, highly reproducible results are achievable.

Continuous Temperature Measurement Systems
The ACCUMETRIX system continuously monitors temperature in real-time inside the pour box of auto-pour and pressure pour furnaces.

Spheroidisers/ FeSiMg Alloy
NODULANT granular spheroidisers for compacted and nodular cast irons are available in a variety of chemistries and grain sizes.
Chemical Analysis (%)

Silicon

Calcium

Aluminium

TRE%

Mg

Iron

NODULANT 306L
42-46%
2.8-3.2%
0.8% Max.
La-0.3-0.6%
6-7%
Balance
NODULANT 308L
42-46%
2.8-3.2%
0.8% Max.
La-0.3-0.6%
9-10%
Balance
NODULANT 116
42-46%
0.8-1.2%
0.8% Max.
0.8-1.2
6-7%
Balance
NODULANT 316
42-46%
2.8-3.2%
0.8% Max.
0.8-1.2
6-7%
Balance
NODULANT 328
42-46%
2.8-3.2%
0.8% Max.
0.8-2.2
9-10%
Balance
Fluxes and Slag Coagulants
FERROGEN scavenging and fluxing products for treatment ladles, transfer ladles and coreless induction furnaces.
SLAX slag coagulants are a range of products for coagulating and removing slag from the surface of melts in ladles or furnaces.
FERROLAB V Advanced Thermal Analysis System
The FERROLAB V measurement system is a sophisticated thermal analysis tool that leads to uniform iron quality, less variation in the properties of castings and ultimately allows a reduction in the amount of castings rejected.