You are viewing solutions for region:
Poland
powrót
Laser Contouring System (LCS) for High Temperature Laser Refractory Thickness Measurement
The LCS uses a suite of sensors capable of measuring the remaining lining thickness in vessels used to produce and refine molten metal. Whether you are making steel, copper or aluminum, we have a mobile or fixed position system that can provide the critical lining thickness information you need to maximize vessel up-time and minimize operational cost.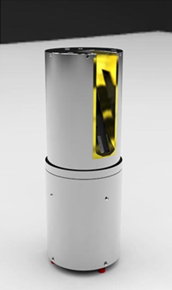 All systems provide the following measurement information in simple, easy to read formats:
Refractory thickness in 2-D or 3-D format
Bath Level measurement
Tabular output with auto-transfer to plant Level II system
Refractory wear rate and lifetime prediction capability
Optional surface temperature measurement using integrated two-color pyrometer
Small (3.6mm) beam diameter
High accuracy (±1.8mm 1σ) scanning
Fast – 120,000 Hz scan rate
New crack detection algorithm measures width and depth of refractory cracks.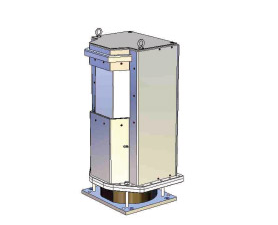 Provide "Always-On" measurement capability. For converter and ladle applications, fixed position installation coupled with the high measurement speed of the LCS enables measurements after every heat with little or no loss of process time.
The automated measurement approach provides the following benefits:
Push- button measurement availability
Heat to heat assessment of refractory wear
Detection of sudden variations in wear patterns, with direct relation to changes in process
Prediction and scheduling of maintenance in advance of the immediate need for repairs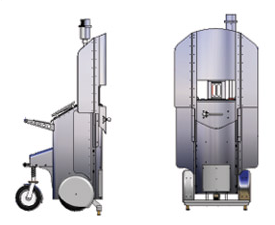 SPEED and SIMPLICITY. Fast measurement times are achieved using our laser-based positioning system. Working from three reflectors mounted on the building structure behind the cart, this system automatically measures the cart position relative to the ladle and reports position information directly to the LCS computer. The navigation system is completely automatic and updates 8 times per second.
On-board battery power delivering up to three hours of continuous operation
Continuous operation while battery charging (e.g. for printing, etc.)
Internal, two-axis cart inclinometer
WiFi for wireless interfacing to the mill's Level II system
Pressure regulated Vortec cooler for extended operation in high temperature (+120° F/50° C) environments
Retractable heat shielding
Large diameter (16"/41 cm) wheels on spring suspension