You are viewing solutions for region:
Poland
powrót
Foseco oferuje pakiet materiałów eksploatacyjnych i urządzeń umożliwiających produkcję czystego metalu o powtarzalnej jakości i jednolitej mikrostrukturze. Asortyment dostarczanych przez nas produktów zapewnia korzyści w zakresie bezpieczeństwa i higieny pracy, ochrony środowiska, automatyzacji i kontroli procesu oraz wydajności.

Proces inicjalizacji INITEK

Stop inicjalizujący INODEX i KONWERTOR FOSECO z wyłożeniem KALTEK ISO 18S zostały opracowane w celu zmniejszenia zużycia Mg, uzyskania ograniczonej i stabilnej modyfikacji, lepszej jednorodności parametrów, lepszych warunków środowiskowych i zmniejszenia kosztów ciekłego metalu.
Nadaje się szczególnie dla odlewni, które stosują FeSiMg do sferoidyzacji w kadzi pośredniej z pokrywą lub w kadzi otwartej wykorzystywanej w procesie sandwich. System osiąga bardzo wysoki poziom odzysku Mg – wyższy niż 90%, w porównaniu z normalnym poziomem w zakresie 40 – 60%.
INODEX to żelazostop zawierający 48% krzemu, zaprojektowany specjalnie dla procesu INICJALIZACJI opracowanego przez Foseco dla produkcji żeliwa sferoidalnego. Jest on stosowany jako stop INICJALIZUJĄCY, służący do kontrolowania siarkowej/tlenowej aktywności kąpieli metalowej. Czasami w celu zapewnienia bardziej precyzyjnego zarodkowania składników struktury odlewów wymagane jest przeprowadzenie trochę późniejszej modyfikacji na strugę metalu w powiązaniu z procesem stosowania materiału INODEX.
Unikalny kształt (graniastosłup trójkątny) KONWERTERA FOSECO ogranicza straty cieplne z odsłoniętej powierzchni metalu poprzez promieniowanie skierowane w stronę wyłożenia. Zapewnione jest również wyższe ciśnienie ferrostatyczne nad stopem uszlachetniającym w kieszeni (kształtce muszlowej), co jeszcze bardziej poprawia odzyskiwanie magnezu.
KALTEK ISO to wyłożenia kadzi na bazie glinokrzemianu. Charakteryzują się wysokim stopniem izolacji termicznej oraz łatwym, 'czystym' i szybkim montażem.

Modyfikatory dla wszystkich gatunków żeliwa

Modyfikatory INOCULIN to asortyment produktów ziarnistych do modyfikacji wszystkich gatunków żeliw. Mogą one występować w postaci mieszanek materiałów modyfikujących lub pojedynczych stopów żelazokrzemowych, zawierających jeden lub większą liczbę pierwiastków stopowych. Dostępne są modyfikatory o różnych wielkościach ziarna i przeznaczeniu - do modyfikacji na strugę metalu, w kadzi, w formie lub do zastosowań z rurą odlewaną odśrodkowo.

Modyfikatory INOCULIN dla żeliwa szarego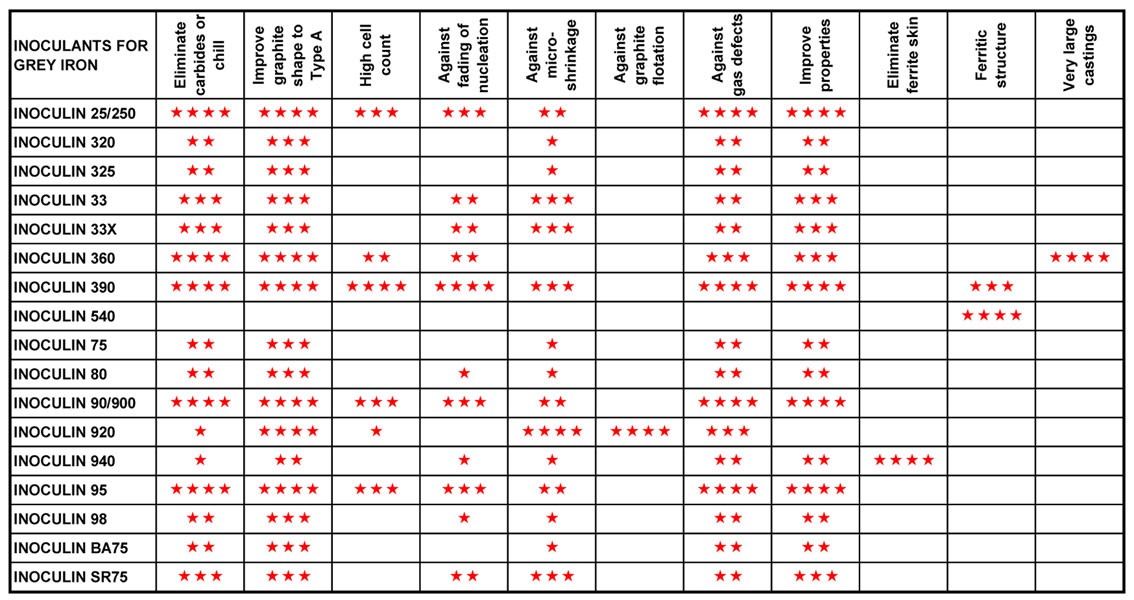 Modyfikatory INOCULIN dla żeliwa sferoidalnego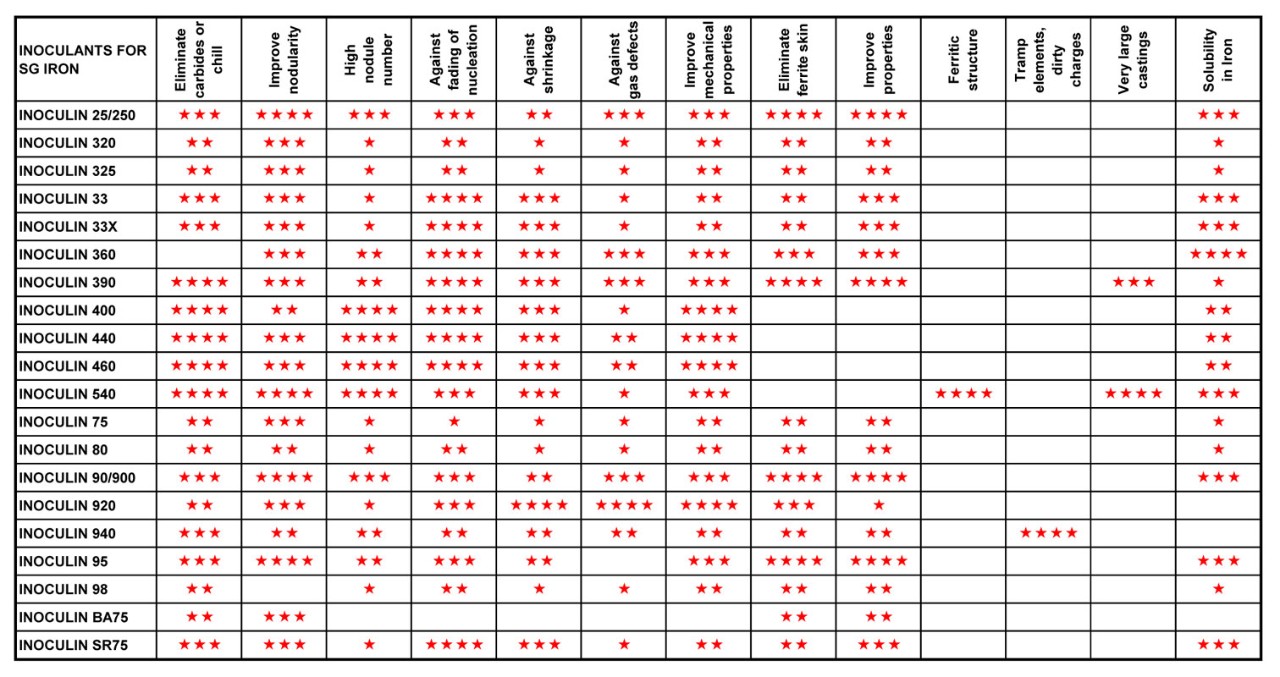 MSI (modyfikacja na strugę metalu wlewanego do formy)
SYSTEM MSI oferowany przez Foseco jest automatycznym systemem modyfikacji na strugę przeznaczonym do stosowania ze zmechanizowanymi i automatycznymi urządzeniami zalewowymi. Wysoce powtarzalne wyniki można uzyskać przy stosowaniu systemu i modyfikatorów INOCULIN przeznaczonych do modyfikacji na strugę metalu. System posiada wbudowany komputer i interfejs RS232. W standardzie dostarczane jest oprogramowanie, umożliwiające zdalną konserwację i sterowanie.
Systemy ciągłego pomiaru temperatury

ACCUMETRIX – system ciągłego monitorowania temperatury w czasie rzeczywistym na rynnie pieca rozlewczego lub w wannie zimnej zalewarki.

Sferoidyzatory

Tabletki NODULANT to dodatek o niskiej zawartości krzemu, stosowany do uszlachetniania żeliwa sferoidalnego grafityzowanego w kadzi. Mogą być stosowane samodzielnie w procesach złożonych lub sandwich albo w połączeniu z MgFeSi.
Ziarniste sferoidyzatory NODULANT dla żeliwa z grafitem wermikularnym i żeliwa sferoidalnego są dostępne w odmianach o różnych składach chemicznych i ziarnistości.
Chemical Analysis (%)
Grain Size
Distribution (mm)
Mg
Si
Ca
Al
RE
NODULANT 225
4.5/5.5
42/50
1.8/2.6
< 0.8
1.9/2.5
2/10 - 4/30 - 10/30
NODULANT 016
5.5/6.5
42/50
0.8/1.6
< 1
< 0.25
2/10 - 4/30 - 10/30
NODULANT 116
5.5/6.5
42/50
0.8/1.6
< 1
0.4/0.7
2/10 - 4/30 - 10/30
NODULANT 116A
5.5/6.5
42/50
0.8/1.6
< 0.8
0.8/1.2
2/10 - 4/30 - 10/30
NODULANT 137
6.2/7.2
42/50
2.7/3.5
< 0.8
0.45/0.75
2/10 - 4/30 - 10/30
NODULANT 137A
5.6/6.6
42/48
2.5/3.5
< 0.8
0.8/1.2
2/10 - 4/30 - 10/30
NODULANT 019
8.4/9.6
42/48
0.8/1.6
< 0.8
< 0.25
2/10 - 4/30 - 10/30
NODULANT 119
8.4/9.6
42/50
0.8/1.6
< 0.8
0.8/1.2
2/10 - 4/30 - 10/30
NODULANT 139
8.4/9.6
42/50
2.7/3.5
< 0.8
0.8/1.2
2/10 - 4/30 - 10/30
Topniki i koagulatory żużla

FERROGEN – produkty do usuwania zanieczyszczeń i odżużlania dla kadzi do uszlachetniania kąpieli metalowej, kadzi transportowych, oraz do bezrdzeniowych pieców indukcyjnych.
SLAX – szeroka gama koagulatorów żużla. Produkt wiąże żużel na powierzchni kąpieli metalowej w kadziach lub piecach, przez co ułatwia jego usunięcie.