You are viewing solutions for region:
Poland
powrót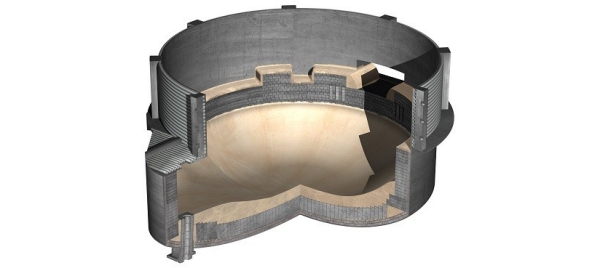 The manner in which an EAF is operated dictates both the selection of materials and constructional design of the furnace. Increasingly, the fuction of an EAF is to be an efficient melting unit with the secondary steelmaking taking place elsewhere, however, there are still furnaces that carry out significant steelmaking in the furnace itself.
Whatever the case may be, Vesuvius have a full range of refractories to provide steel makers with a furnace lining that has high longevity.Vesuvius have an extensive range of magnesia carbon products for EAF side wall application. Incorporating a range of magnesia's from from 95% MgO sinter to 98% MgO ultra large crystal fused magnesia.
Benefits of Vesuvius solutions
Optimised campaign life
Optimised vessel performance and reduced vessel repair cost
Increase vessel availability and productivity
Side wall
Engineered materials:
Supermag* MgO-C solutions designed to resist erosion and corrosion caused by arc temperature, slag contact; and oxidation effects caused by oxy-fuel burners and FeO contact.
Slagline
Engineered materials:
Normally 10% Graphite
High quality fused LC magnesia
Hearth
Engineered materials:
High CaO/FeO Dry MgO Ramming

Roof centres can be suppied as one or multi-piece precast items incorporating a range of slag resistant technologies. Alternatively, high alumina brick based designs either with or without integral precast electrode and gas offtake ports.
Benefits of Vesuvius solutions
Campaign extension
Resistance to wetting from steelmaking slags